November 6, 2023 2:52 pm
Leave your thoughts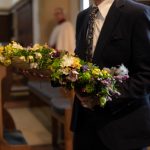 When it comes to commemorating a loved one's life, many people turn to funeral celebrants for a personalized and meaningful funeral or memorial service. Unlike a traditional religious officiant, a certified funeral celebrant focuses on creating a ceremony that honors the life and legacy of the deceased in a personalized and inclusive way. In this blog post, we will explore the role of a certified funeral celebrant and the unique services they provide.
Understanding the Role of a Funeral Celebrant
A certified funeral celebrant is a trained professional who specializes in conducting funeral and memorial services that are tailored to the wishes and beliefs of the deceased and their family. While funeral celebrants may have different backgrounds and training, their primary goal is to create a ceremony that reflects the life and values of the person being honored.
The Role of Personalization
One of the key elements of a funeral celebrant's role is personalization. Funeral celebrants work closely with the family to gather information about the deceased, including their background, interests, values, and achievements. This information is then used to create a ceremony that truly reflects their life and legacy.
Funeral celebrants are skilled at storytelling and crafting meaningful narratives. They use the information gathered from the family to create a eulogy or tribute that captures the essence of the person being remembered. This personalized approach allows family and friends to participate in a service that feels authentic and truly represents their loved one.
The Inclusive Nature of Funeral Celebrancy
A certified funeral celebrant is focused on creating inclusive and non-religious ceremonies. While some families may have specific religious or spiritual beliefs, many are seeking a ceremony that appeals to a diverse audience and welcomes people of all backgrounds.
Funeral celebrants can create ceremonies that incorporate various elements, such as music, poetry, readings, and rituals, that are meaningful to the family. They have the flexibility to blend traditions and beliefs to create a service that resonates with everyone in attendance.
Supporting Families in Grief
In addition to designing and conducting the funeral or memorial service, funeral celebrants also play a crucial role in supporting the grieving family. They are trained in grief counseling and can provide emotional support to help individuals navigate their grief journey. Funeral celebrants understand the delicate nature of the grieving process and strive to provide a compassionate and comforting presence during this difficult time.
Collaborating with Funeral Directors
Certified funeral celebrants often collaborate closely with funeral directors to ensure a seamless and well-organized service. They work together to coordinate logistics, such as venue arrangements, transportation, and the overall flow of the ceremony. Funeral celebrants appreciate the expertise and guidance that funeral directors bring to the table, as they work together to create a meaningful and respectful experience for the family and attendees.
Continuing Education and Certification
To become a certified funeral celebrant, individuals typically undergo training and certification programs. These programs provide education on funeral customs and rituals, grief counseling, public speaking, and ceremony design. Continuing education is often required to maintain certification, ensuring that funeral celebrants stay updated on best practices and industry standards.
Summary
The role of a certified funeral celebrant is to create a personalized and inclusive funeral or memorial service that honors the life and legacy of the deceased. They work closely with the family to gather information and craft a ceremony that reflects their loved one's values, interests, and achievements. Funeral celebrants provide emotional support to the grieving family and collaborate with funeral directors to ensure a seamless service. By working with a certified funeral celebrant, families can create a meaningful and memorable tribute that celebrates their loved one's life in a way that is unique and personal.
Need a Funeral Planner in Lake City, FL?
For over 16-years, ICS Cremation & Funeral Home has been providing northern Florida and southern Georgia with the best cremation and funeral services. We guarantee high-quality work at the most affordable price. Our knowledgeable staff can help prearrange cremations and funerals. Our services include full funerals, urns, keepsake urns, cremations, cremation jewelry, obituaries and more. Family-owned and operated, ICS Cremation & Funeral Home's objective is to help you make the best cost-efficient decision. If donating bodies to science is an idea of yours, we can lead you in the right direction. We are also proud members of the Chamber of Commerce. If you need more information or a free estimate, contact us today!
Categorised in: Funeral Planner, Funeral Services
This post was written by admin