October 30, 2023 2:52 pm
Leave your thoughts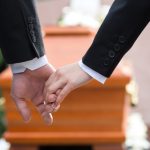 Attending a funeral can be a challenging and emotional experience, especially when you are faced with the task of offering comfort to a grieving individual. Finding the right words to say in such a sensitive situation can be difficult, as you want to provide solace and support while being respectful and sensitive to their pain. In this blog post, we will explore some comforting things to say to a grieving person at a funeral.
1. Expressing Condolences
Offering your condolences and expressing your sympathy is an essential part of comforting a grieving person. Simply saying, "I'm so sorry for your loss" or "Please accept my deepest condolences" can go a long way in acknowledging their pain and showing that you care. These simple words can provide the grieving person with a sense of support and let them know that you are there for them during this difficult time.
2. Sharing Memories
Sharing fond memories or stories about the deceased can be immensely comforting to a grieving person. These stories can help to celebrate the life of their loved one and provide a sense of connection and warmth. Whether it's recalling a funny incident or sharing a heartwarming moment, reminiscing about the positive aspects of the deceased can bring comfort and solace to the grieving person, reminding them that their loved one will always be remembered.
3. Offering Support
Letting the grieving person know that you are there to support them is crucial. You can say, "If there's anything I can do for you, please don't hesitate to ask" or "I'm here for you, anytime you need to talk or need assistance." By offering your support and being available to help in any way they may need, you are providing them with a sense of reassurance and understanding during this challenging time.
4. Acknowledging their Feelings
Grief is a complex and deeply personal experience, and it's important to acknowledge and validate the grieving person's feelings. You can say, "It's understandable that you're feeling overwhelmed right now" or "It's okay to feel however you're feeling – grief is different for everyone." By acknowledging their feelings and giving them permission to experience and express their emotions, you are providing them with a safe and understanding environment to process their grief.
5. Offering Comfort through Faith
If the grieving person has religious beliefs, offering words of comfort that align with their faith can be deeply meaningful. You can say, "May you find strength and solace in your faith during this difficult time" or "I pray that God's love and mercy will bring you peace." Sharing a prayer or offering to include them in your own prayers can also provide them with a sense of spiritual support and connection.
6. Acknowledging the Loss
Sometimes, it can be difficult to find the right words to say in the face of such a painful loss. In such cases, it's important just to acknowledge the magnitude of the loss and be there to listen. You can say, "I can't imagine what you're going through, but I'm here to listen if you want to talk" or "This is such a profound loss, and I'm here for you, no matter what." Sometimes, even a comforting hug or a simple touch on the shoulder can convey your empathy and compassion more than words ever could.
7. Reminding Them of their Strength
Grief can be an incredibly overwhelming and disorienting experience, and it's easy for the grieving person to feel lost or powerless. Reminding them of their strength and resilience can be incredibly comforting. You can say, "I've seen your strength in the face of adversity before, and I know you will get through this" or "You are such an incredible person, and I believe in your ability to overcome this pain." By highlighting their inner strength, you are offering them a source of hope and encouragement during this difficult journey.
Summary
Finding comforting things to say to a grieving person at a funeral is about offering support, empathy, and understanding. Expressing your condolences, sharing memories, offering support, acknowledging their feelings, providing spiritual comfort, acknowledging the loss, and reminding them of their strength are all ways to provide solace during this challenging time. Ultimately, it's important to remember that everyone grieves differently, and the most important thing is to be present, listen, and offer your genuine support and compassion in whatever way feels right for the individual grieving.
Need a Funeral Planner in Lake City, FL?
For over 16-years, ICS Cremation & Funeral Home has been providing northern Florida and southern Georgia with the best cremation and funeral services. We guarantee high-quality work at the most affordable price. Our knowledgeable staff can help prearrange cremations and funerals. Our services include full funerals, urns, keepsake urns, cremations, cremation jewelry, obituaries and more. Family-owned and operated, ICS Cremation & Funeral Home's objective is to help you make the best cost-efficient decision. If donating bodies to science is an idea of yours, we can lead you in the right direction. We are also proud members of the Chamber of Commerce. If you need more information or a free estimate, contact us today!
Categorised in: Grief
This post was written by admin