September 6, 2023 2:11 pm
Leave your thoughts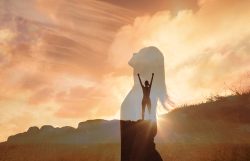 Losing a loved one is an incredibly challenging experience, and planning their final farewell can be an emotional task. Traditionally, people have held memorial services to honor and remember those who have passed away. However, in recent years, a new trend has emerged – the celebration of life. While both events serve the same purpose, there are distinct differences between them. In this blog post, we will explore these differences and understand the unique aspects of each.
1. The Focus:
The primary difference between a celebration of life and a memorial service lies in the focus of the event. A memorial service typically centers around mourning and paying respect to the deceased. It is a formal gathering where friends and family gather to share memories, offer condolences, and support one another in their grief. On the other hand, a celebration of life aims to commemorate the person's life rather than mourning their death. It is a more uplifting and positive event, where participants focus on the joyous moments, accomplishments, and legacy of the departed.
2. Atmosphere and Tone:
Memorial services are often somber, solemn occasions. People dress in traditional funeral attire, and the ambiance is usually more serious and respectful. Conversely, celebrations of life have a livelier atmosphere. Attendees are encouraged to dress in bright colors or clothing that reflects the personality and interests of the deceased. Laughter and storytelling are common elements as participants share funny anecdotes, cherished memories, and accomplishments. The overall tone is joyful and reflective of the deceased's vibrant spirit.
3. Time and Flexibility:
Memorial services are generally held within a few days or weeks after the person's passing, allowing for timely grieving and support. These events tend to adhere to traditional customs and rituals associated with mourning. In contrast, celebrations of life can be held weeks, months, or even a year after the passing. They offer more flexibility in terms of timing, allowing people to have time to heal and find comfort in the memories before gathering to celebrate the person's life.
4. Venue and Format:
Memorial services typically take place in funeral homes, churches, or other religious institutions. These venues provide a formal setting for the service, which often includes prayers, eulogies, and a moment of reflection. Celebrations of life, on the other hand, offer more variety in terms of venue and format. They can be held anywhere that holds significant meaning for the departed, such as a park, beach, or a place dear to their heart. The format can range from casual gatherings with food and drinks to more structured events that include music, speeches, and slideshow presentations.
5. Personalization:
While memorial services often follow established customs and traditions, celebrations of life are highly personalized to reflect the unique personality and passions of the deceased. Decorations may include photos, memorabilia, and items that represent the person's hobbies, interests, or achievements. The program can involve favorite songs, readings of meaningful quotes or poems, and even interactive activities that reflect the person's life.
Summary
Both celebrations of life and memorial services serve as a way to honor and remember loved ones who have passed away. However, the key differences lie in the focus, atmosphere, timing, venue, and personalization of these events. Whether you choose to host a memorial service or a celebration of life, the most important thing is to create a meaningful and healing experience for those who attend. Ultimately, it is a chance to preserve cherished memories, celebrate a life well-lived, and find solace together as a community.
Got Questions? Let Us Help!
For over 16-years, ICS Cremation & Funeral Home has been providing northern Florida and southern Georgia with the best cremation and funeral services. We guarantee high-quality work at the most affordable price. Our knowledgeable staff can help prearrange cremations and funerals. Our services include full funerals, urns, keepsake urns, cremations, cremation jewelry, obituaries and more. Family-owned and operated, ICS Cremation & Funeral Home's objective is to help you make the best cost-efficient decision. If donating bodies to science is an idea of yours, we can lead you in the right direction. We are also proud members of the Chamber of Commerce. If you need more information or a free estimate, contact us today!
Categorised in: Celebration of Life, Memorial Service
This post was written by admin