August 30, 2023 4:28 pm
Leave your thoughts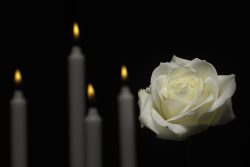 When a loved one passes away, honoring their memory with a memorial service is a common practice. A memorial service is a ceremony that allows family and friends to come together to remember and pay tribute to the deceased. While there isn't a set formula for a memorial service, there are certain elements that are typically included. In this blog post, we will explore what a typical memorial service entails to provide you with a better understanding of this important event.
1. Gathering and Welcoming
A memorial service usually begins with a gathering and welcoming period. Family and friends gather at a designated location, such as a funeral home, church, or community center. There may be a designated person, such as a clergy member or a family spokesperson, to welcome everyone and set the tone for the service. This period allows attendees to come together, offer condolences to the family, and prepare for the start of the service.
2. Opening Remarks and Prayers
Following the gathering, an opening remark or prayer is typically offered to formally begin the memorial service. This may be conducted by a clergy member or a family member who has been chosen to lead the service. The purpose of the opening remarks is to set a reflective and respectful atmosphere and acknowledge the purpose of the gathering – to remember and honor the life of the departed individual.
3. Eulogy and Tributes
The eulogy is a central element of a memorial service. It is a speech or tribute that provides a personalized reflection on the life of the deceased. Typically, a family member, close friend, or a designated speaker delivers the eulogy. The eulogy may consist of personal anecdotes, memories, and highlights of the person's life, encapsulating their personality, accomplishments, and the impact they had on others. In addition to the eulogy, other individuals may also have the opportunity to share their own tributes or stories about the deceased.
4. Readings and Music
Readings and music can also be an integral part of a memorial service. Readings may include meaningful passages from religious texts, poetry, or literature that reflect the values and beliefs of the deceased or provide comfort to the attendees. Similarly, music can evoke emotions and set a poignant atmosphere. Hymns, favorite songs of the deceased, or instrumental pieces can be played or sung during the service to further enhance the reflection and remembrance.
5. Moments of Reflection and Silence
Memorial services often incorporate moments of reflection and silence. These moments allow attendees to individually process their thoughts and memories of the deceased. It provides an opportunity for introspection and allows each person to privately pay their respects. These moments of silence can also serve as a time for prayer or meditation, depending on the religious or spiritual beliefs of the attendees.
6. Closing Remarks and Commemoration
Towards the end of the memorial service, closing remarks are given to conclude the event. This may include final thoughts, expressions of gratitude, or a closing prayer. It is common for the family to express their appreciation for the support and presence of the attendees. In some cases, a symbolic gesture such as the lighting of candles, releasing of balloons, or scattering of ashes may take place as a final commemoration of the loved one's life.
Conclusion
A typical memorial service encompasses various elements designed to honor and commemorate the life of the deceased. While the exact format may differ depending on cultural, religious, and personal preferences, the gathering and welcoming, opening remarks, eulogy and tributes, readings and music, moments of reflection and silence, and closing remarks and commemoration are commonly included. The purpose of a memorial service is to provide solace, remembrance, and support to those grieving the loss of a loved one. Each service is unique and personal, reflecting the individuality and impact of the person being honored.
Got Questions? Let Us Help
For over 16-years, ICS Cremation & Funeral Home has been providing northern Florida and southern Georgia with the best cremation and funeral services. We guarantee high-quality work at the most affordable price. Our knowledgeable staff can help prearrange cremations and funerals. Our services include full funerals, urns, keepsake urns, cremations, cremation jewelry, obituaries and more. Family-owned and operated, ICS Cremation & Funeral Home's objective is to help you make the best cost-efficient decision. If donating bodies to science is an idea of yours, we can lead you in the right direction. We are also proud members of the Chamber of Commerce. If you need more information or a free estimate, contact us today!
Categorised in: Memorial Service
This post was written by admin